Take Stock In Children Scholarship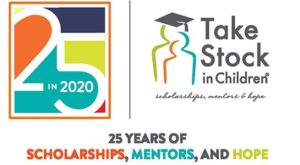 If you're ready to take control of your future, 'Take Stock in Children' can help by providing you with the motivation, support and academic assistance you need in order to achieve success.
About 'Take Stock in Children' (TSIC)
Our TSIC program offers the promise of a college tuition scholarship to our students when they successfully meet regularly with their mentor and meet all program requirements.
The TSIC program provides mentors and staff with support and guidance to ensure students (many of whom are the first in their families to attend college) are prepared for the rigors of college coursework.
TSIC Scholars are required to:
Stay in school
Maintain good grades
Exhibit exemplary behavior
Remain drug-free and crime-free
Attend regular mentor meetings
All TSIC Scholarship applications due date TBD, typically October
Please call Sara Wierhake at 941-255-7500, ext 1798, if you have any questions about this application.
'Take Stock in Children' program participants receive:
Volunteer Mentor who will meet with each you to provide support and encouragement
College Success Coach who will help design a college success plan and provide guidance
College Readiness Support
Florida Prepaid College Scholarship which can be used at any State public university, college or vocational / technical school in Florida approved by the Florida Prepaid College Foundation
1. Check Your Eligibility
To be eligible to apply for the Take Stock in Children program, students must meet the below listed criteria:
Minimum of a 2.5 GPA
Have good attendance and behavior
Be a U.S. Citizen or Permanent Resident or Eligible Non-Citizen
Have a Social Security Number
Meet the income eligibility guidelines provided by the USDA
2. Gather the Following Information
Gather the following information, and click the "Apply Online" button:
Student ID and school information
Social Security Number for student and parent / guardian
Parent / Guardian Employment Information
Name, age and highest level of education for each family member living in the house
Household finances (income, expenses, savings)
Information about all social services currently being received
A copy of parent / guardians 2022 Tax Return must be submitted with the application. If you haven't filed, contact us at 941-255-7500 ext. 1798
Students and Parents / Guardians:
Pick-up an application at your school or Charlotte Technical College
Print the application at home or at a library (free Adobe Reader required)
Mail completed applications and supporting documentation to:
Charlotte Local Education Foundation/TSIC
18150 Murdock Circle
Port Charlotte, FL 33948