Teacher of the Year, Bonnie Powell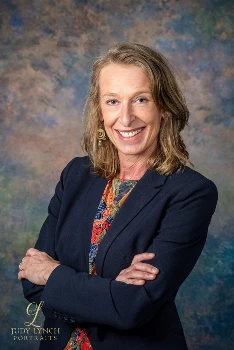 Bonnie Powell has been teaching for thirty-one years with 26 of those in Charlotte County.  She has taught all grade and ability levels from ELL to Reading Remediation, with a focus now on Advanced Placement Literature, Advanced Placement Seminar, and ninth grade AICE English General Paper. Bonnie clearly brings a sense of humor and fun into the classroom. She describes her classroom as often loud, taking bizarre and unexpected turns, and much to the chagrin of her Task-Type students and her colleagues downstairs this often requires desk rearrangements. In our data-driven environment, her students have fared well.  Over the past five years, AP literature students have earned an 80 % pass rate; Seminar 93 %; and the AICE ninth graders, around 90 %. What the numbers don't say, however, is the number of students who try an honors course for the first time and realize they can pass. Or successfully make it through a solo presentation. They learn to enjoy reading a new book, or even decide that they want to write a book! She supports her students in a variety of ways including being sponsor of the Creative Writing Club and hosting writing twice a year. She is co-sponsor of the annual poetry slam which has been going strong since 2014. And is part of a team of teachers providing after-school study hall.
They also hold FSA and AICE cram sessions on the weekends during the
approach to testing season. She was instrumental in the inception of and current version of the annual AP Scholar recognition during our homecoming game. And team member of the Literacy Council. She is honored by this opportunity to represent the teachers, students, and staff at her school.